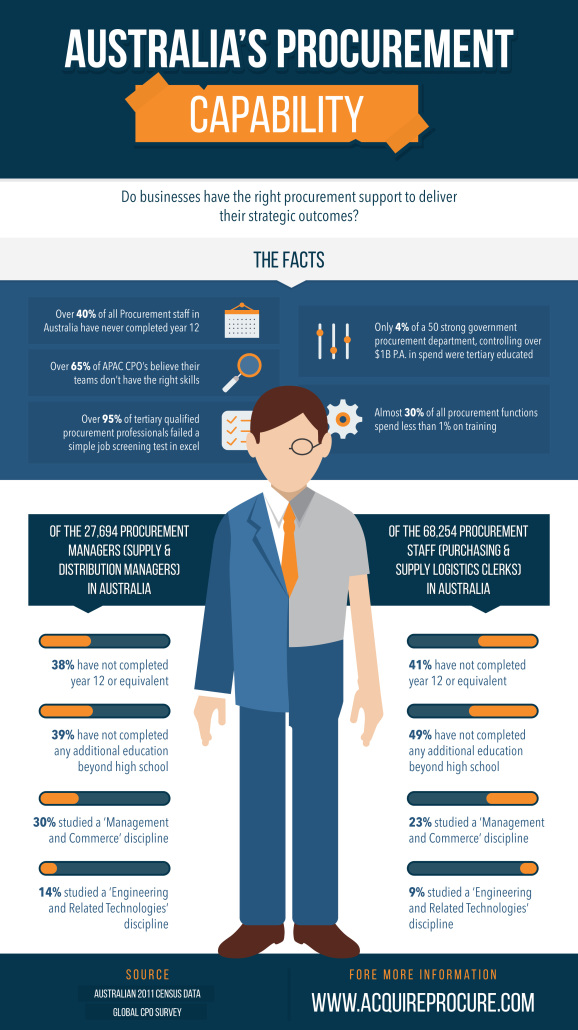 The expectations of Procurement (or Supply) Functions have transformed in previous years – once established as a purchasing office to provide rigour over company spend, they're now required to move beyond simple process governance and demonstrate considerable value in all supply based decisions.
Does your Procurement Function have the capability to deliver on your expectations?
…Unfortunately, you may have the wrong people for the job.
If you're asking "so what"?", read through the examples of when 'Procurement's gone bad', and think about what it would mean for you and your organisation if you made it onto this list.
A number of articles have been released from  recruiters about the skills required of a successful Procurement Professional. From our experience, the article 9-essential-skills-needed-to-work-in-procurement, did a good job to summarise these…however we thinks it's missing one extremely important area, Commercial Skills!
This list, along with the census data presented in the infographic, raises a few challenges for Australian businesses looking to get the most from their procurement function.
Procurement skills
The challenge for your business
1
Project Management
Cost, quality (scope) and time – the project management constraints are evident and extremely important in the world of procurement. While most people may learn some of these skills, a good project manager is worth their weight in gold. Unfortunately, those with formal education, namely Engineering and Information Technology graduates are few and far between in your Procurement teams.
2
Flexibility
Things change in business – quickly and often. The challenge for the modern day Procurement professional is whether they have level headed staff who can think outside of a process when required, to get the best result from the business. This includes challenging the mentality from 'this is the way we've always done it', to 'how can we do things differently'.
3
Analytics
Accurate analysis can only occur when staff have the capability to use tools such as Excel, and as the article mentioned, have a knack for story telling. As Procurement Analytics requires a professional to not only analyse and reconcile multiple data sources, but also to communicate 'what it all means' and draw conclusions. Unfortunately, most organisations are failing in both of these areas. Even when the data is available to analyse, the average procurement person doesn't know the questions to ask, or have the skill set to ask them.
4
Negotiation
While some might argue that negotiation skills are something that you develop over time. Those who know the theory behind how humans behave in a negotiation environment and how to design the 'game' in the first place, will always win out in the end. Unfortunately, Negotiation is rarely taught these days with the exception of legal practitioners, however they often seem to forget the mathematics, probability and long term strategy required to be a strong negotiator.
5
Communication
The ability for a Procurement professional to communicate with their business operations and suppliers is a major gap in most organisations. Unfortunately, it's extremely rare for Procurement staff to completely understand the business they procure for and speak the language of the stakeholders. This gap between Procurement and Operations teams, has limited Procurement's ability to influence the wider organisation.
6
Supplier Relationship Management
You can only reap the many benefits of having truly strategic suppliers where the relationship with that supplier is actively managed and monitored. This includes the ability to build trust and work together to improve performance. Unfortunately, many organisations are experiencing the side effects of what we like to call 'watermelon' status reports. Where the supplier provides reports communicating all expectations are being met, only to find significant issues once in the detail. Also, most staff are losing site of the business outcome that the supplier was brought into achieve in the first instance.
7
Teamwork
While category management has the benefit of focusing effort and skill on one specific area of spend, it often leads to issues where the total cost to the business and its core activities are often forgotten. A good procurement professional should be thinking about the end-to-end value chain…not just a savings opportunity in their category.
8
Technology
Technology advancements and innovation are happening everyday. In the products and services that are sourced, in the tools that are used everyday to follow process, as well as technology that is transforming business to remain competitive in a digital world. Procurement staff should not only be thinking about how automation could help them deliver their workload, but also what technology will help them to better support their business. Procurement staff should be up-skilling in analytics and basic coding as machine learning models and artificial intelligence become more prevalent in aiding procurement decision making.
9
Change Management
As companies change, whether delivering by strategy, technology innovation, or business model disruption, it's up to the Procurement professional to understand what this means for Supply in their business. This requires procurement staff of all levels to raise their heads out from the transactional processing and begin asking questions of leadership about how the business should leverage the supplier network to be more competitive.
10
Commercial
A well rounded Procurement Professional needs to connect all of these skills into a commercial model that will allow the business to be successful. Too often, staff lose focus of how their business operates and how the product or service they are procuring adds value to their business. If the supplier isn't adding to the value of the business, a good Procurement professional should working with the supplier to get them to deliver a desired business outcome, or ask the question of Operations, are they still needed?
What happens when Procurement goes bad?
It's not difficult to find examples of where a shortage in Procurement Capability (and some incompetence) have led to major incidents for businesses and government. Here are five of the best:
Procurement Fail
Extract
1
WA Health IT – 79 variations in the contracts!
Ms Brown said one officer, who was only authorised to spend up to $100,000 and instead authorised expenditure worth more than $40 million, has since left the department.
"In this instance an officer was able to purchase beyond [their] authorised limits and clearly was incompetent in that role
2
Defence Housing Contracts ($1B p.a.)
Defence was unable to provide the ANAO with an accurate, consolidated summary accounting for the full $195.5 million difference between the negotiated contract price ($844 million) and actual expenditure in 2015–16 ($1039 million).
3
QLD Health – IBM
The fact that a former IBM executive, Terry Burns, had been tasked with running the bidding process, should have immediately sent alarm bells ringing over the credibility of the entire procurement process
4
Victorian Busses
It costs Victorians $1 billion a year to run Melbourne's public buses, yet there is no guarantee that bus operators give value for money and little incentive for them to work harder to provide punctual and reliable services
5
Inquiry launched into 'deeply embarrassing' nuclear contract
The Nuclear Decommissioning Authority (NDA) has agreed to pay the two firms Energy Solutions and Bechtel £85m and £12.5m respectively after the High Court found it had wrongly decided the outcome of a 2012 tender process.
While we may have painted a gloomy picture for some with the information above, everything's not lost! We hope this article raises a few questions within your Operations, Finance or Procurement teams, being:
what do I want from my Procurement function?
what capability is required to deliver my business strategy?
what skills do I need to develop within my team?
what skills do I need to augment into the organisation using consultants?
For some, this may require you to invest in your Procurement team to increase their capability through industry certification such as CIPS, for others, it may just be worth looking around at the capabilities of the many consulting organisations who are there to help you when you need it.
We want to help our clients to continue to develop their capability and exceed the expectations of your business. If you or your team require any support to deliver your business strategy, please reach out to the team at Acquire.