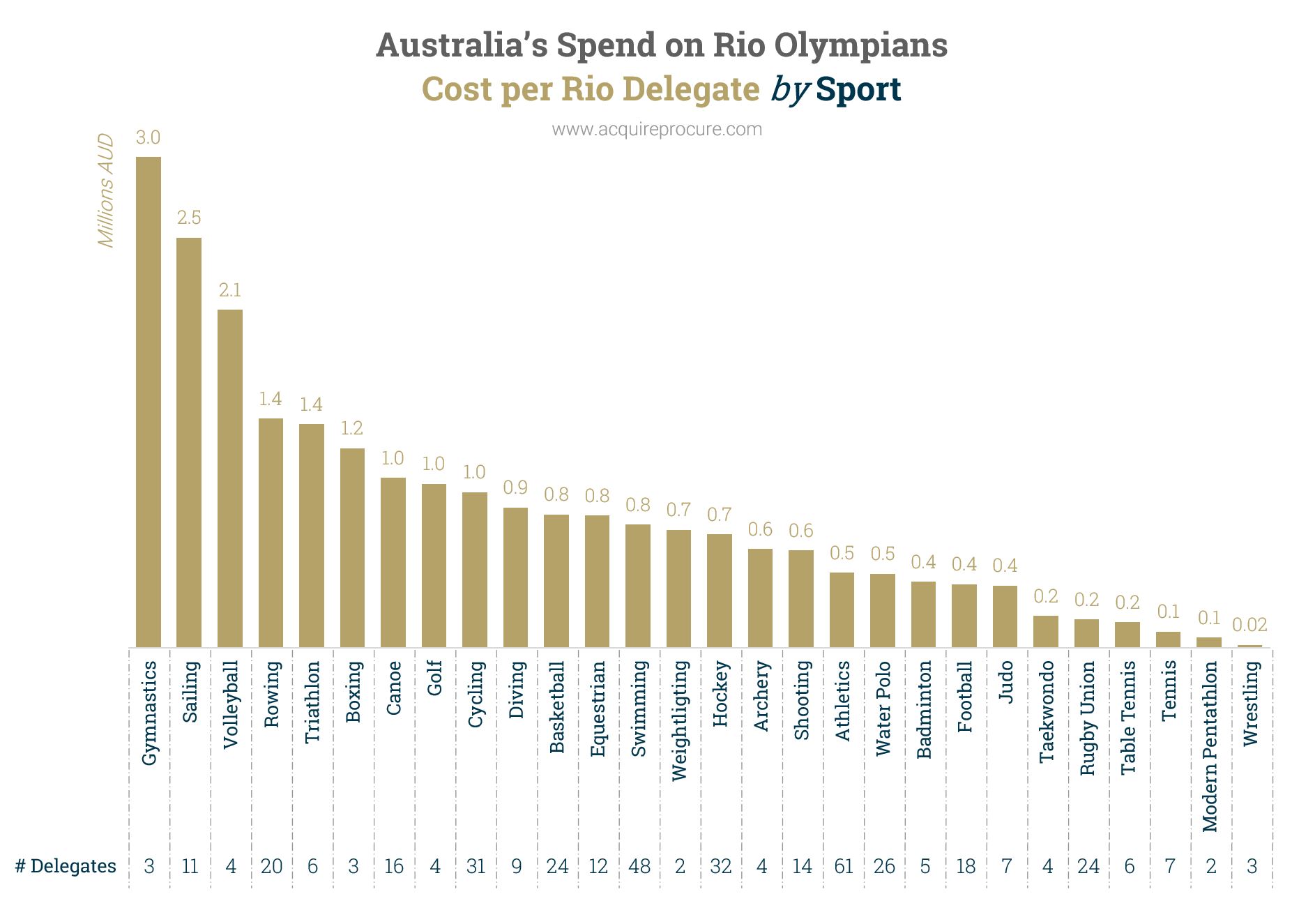 Using the 'High Performance' funding allocations data* from the Australian Sports Commission ("ASC") over the past 4 years, we have estimated the cost per each Olympian we are sending to the Rio Summer Olympics commencing this Friday 5 August.
The chart reveals:
Our Gymnasts cost the most at around $3M AUD per delegate,
Our Wrestlers costs the least at just about $20k AUD per delegate
Of course, this money has also been used on high performance athletes who have not been selected for the Olympics but it still reflects the ASC's funding priorities with the taxpayer's money.
Is this the most effective way of buying the outcome?
Although having Aussie delegates selected for the Olympics is a good indication of the return on investment, ultimately the big prize are the medals that we win in the end.
Looking at the high performance spend* on the Summer Olympic sports in the four years leading up to the 2012 London Olympics ($213.7M) and the 35 medals won, the cost per medal worked out to be about $6.1M AUD.
In the 4 years leading up to the Rio Olympics, the ASC distributed $302M in high performance funding to the Rio sports. With current targets for the Rio Olympics at an ambitious 58 medals (at best), this brings the  the cost per medal down to about $5.2M each although the Australian has reported that this may be as high as $9.2M per medal based on a more conservative medal win forecast. Well  – we will know how effectively we have 'bought' the outcome in a few weeks time!
*Taken from 'Funding to Sports' appendix of annual reports 2009/2010 to 2015/2016